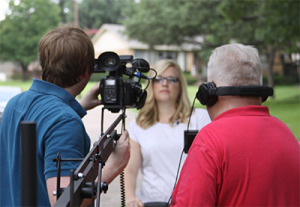 Video for the Web
There is never enough content for the web.  Search engines love refreshed content.  And videos are among the best ideas for bringing customers back to your website over and over.
We love to make videos for YouTube, Vimeo, Vine, Facebook, and websites. These videos are perfect for:
Products
Training
Events
Workshops
Marketing
Tributes
Fund Raisers
Let Dallas Media Center produce a video for your website or the Internet.
We can videotape at the location of your choice.
We have backdrops or a green screen that can put you anywhere in the world in your video.
Editing, music, titles and other graphics from our large libraries are included.
We will give you a digital MPG4, Quick Time or Windows Media file to upload to your website, You Tube, Vimeo or any other location.  Or put it on your hard drive to use in your computer.
We can also build a YouTube or Vimeo channel for you.
Talk to one of our video specialists at 214-349-2349.  You may be surprised at how affordable it is to create your own custom video.
MOTION GRAPHICS
We also offer motion graphics videos that tell your story in exciting animated text.  This is an affordable option for creating video on a budget.   Here's a sample.