Contact Dallas Media Center at 214-349-2349.
Email us at  info@dallasmediacenter.com
We are located at
9661 Audelia Rd., Suite 108
Dallas, TX  75238
Dallas Media Center is at the intersection of Walnut Hill Lane and Audelia Rd. We are in the SW corner, behind 7-11, between Cedar & Vine and Shady's Burgers.
Our hours are: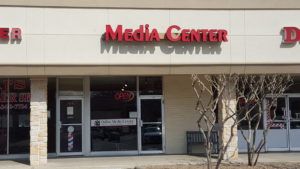 11-6 Monday
11-6 Tuesday
11-6 Wednesday
11-6 Thursday
10-5 Friday
Closed Saturday and Sunday