Let's Save Your Life
Your memories are precious: weddings, baby's first steps, school plays, sports competitions, musical performances, family vacations, birthdays, anniversaries or loved ones now gone.
These memories live on a variety of media all over your home: big VHS tapes, audio cassettes, smaller videos formats from various cameras, 8mm movies in those little yellow boxes or blue reels and stacks of photo albums or slide carousels. Sights and sounds that live only in these aging forms, gathering dust and deteriorating more each day.
Plus — you have no way to view these captured moments. You no longer have a VCR, the camera, a cassette player or a slide projector. Stacks of memories.  .  . unwatchable, unshareable.
We can save these moments in your life.
Bring your videos, movies, audio, photos or slides to Dallas Media Center. We can transfer them to CD, DVD, flash drives, hard drives or the cloud.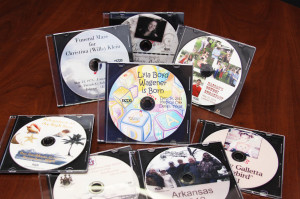 All our work is done in-store, and we ship nothing out. Our techs are trained to treat your memories with the TLC they deserve, as if they were our own. You will have the peace of mind of knowing your irreplaceable media is safe with us.
We  provide you with a personalized label printed directly on your discs, a jewel case for CDs and DVDs, and as many copies as you need. Ask about quantity discounts, too. If you choose another format for your files, we can supply the flash drive or a hard drive.
Just drop off your media at our store, 9661 Audelia Rd., #108 in the Lake Highlands Plaza shopping center in Dallas. We are open five days a week. Check our hours. If you want to mail materials to us, you are completely free to do so. Please get a tracking number on your shipment and pack it to avoid damage. And you may want to call us to let us know to expect a package.
If you need more information or have special requests, call  one of our techs: 214-349-2349.
Our prices are competitive with other companies, local or nationwide. Download our Pricing Brochure
These are formats we can transfer for you:
video                        audio                          film                          slides and photos
Storing Your Media
Label the individual media item as best you can. Use indelible ink like a Sharpie.
Pack everything in closed containers (plastic bins) that will protect against dust, moisture and pests.
Label the outside of the container with the contents.
Media should be kept in a cool, dry place, avoiding excessive temperatures and moisture or dryness.
Put the bin in a closet inside your house or a temperature-regulated storage facility.
Disc Duplication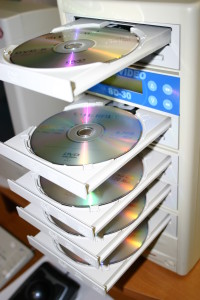 We can reproduce CDs and DVDs in any quantity you need, whether it's one or
one thousand.
We will print a label on each disc and include in a slimline
jewelcase. Custom-designed labels and presentation
boxes or multiple disc cases are available.
And ask us about large quantity discounts.